Close and lock the press, leaving the materials to be processed inside (or materials of equal thickness). Loosen the knurled pressure locking nuts – two on the 210M, one on the 160M – (if the locking nuts do not loosen easily, open the press, insert an extra thickness of materials, close and lock the press, and then loosen the locking. Seal Jumbo 160 Dry Mount Press - $75 (Lakewood, CO) Seal Jumbo 160 Dry Mount Press, excellent condition. Platen size 15' x 18'. Minecraft shaders 1.12.2 for mac. I have used the press for dry mounting photos, flattening roll inkjet paper, and flattening watercolor paper.Pickup in Denver area. I can also deliver within a 100 mile radius of Denver for a small fee.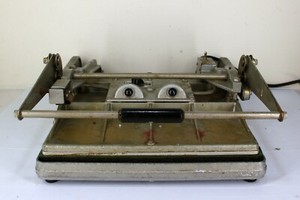 In the middle of trying to get free of duplicate stuff that is cluttering up my life I fell off the wagon and picked up another Seal press, a 150 Jumbo for $10 (plus $30 in shipping.) I already have a 200 Commercial but the prospect of something a little lighter and a little smaller seemed to cloud my judgement (along with the price) It hasn't arrived yet so I don't know what condition it will be in other than it needs a pad, but I can cut down good area of the old pad I replaced on the 200 (the old pad is in my canibal box) I wouldn't be surprised if it needed a blast of easy off or bon ami to clean the platen since it is coming from a high school photography lab thats gone digi, but that will be easier to clean than the 200 was (which apparently did t-shirt transfer duty and the platen looks like a lunar landscape!) Anyway I was wondering if anyone else here uses a 150 Jumbo and if they found the 18-1/2' platen too limiting? I'm guessing that mounting a 16x20 enlargement on a 20x 24 mat would be a piece of cake for this machine as would my 5x7, 8x10 and 12x20 contacts. Is the 150 Jumbo a good deal (if in good condition?) Should I have 'gotten more serious' and sprung for a new press? They seem prohibitively expensive, but no one around here is doing dry mounting anymore----its all on foam core these days. Thats not a bad thing but I like to flatten my fiber prints in a press anyway and now this is something I can't 'farm out' any more (which is what led to the purchase of the Seal 200 in the first place.) Should I ever have the very rare need to mount a 20' wide print I suppose I'll have to keep the 200 Commercial around, but could I do just as well with the smaller 150 press for everything else? What do you think?
Jumbo 150 Dry Mount Press
Mar 26, 2020  I asked the question on several post with no real answer that if an old inexpensive dry mount press used in photography mounting can work as heat press for vinyl HT or vice versa. I saw a $20 Seal 110s model swing away heat press on craigslist, so, what a heck just buy it and try. Prior to purchase, I downloaded the manual and checked the specs.
This press is a simple, easy-to-use tool that can be used with a variety of materials to dry mount, laminate, or reinforce all types of photographs and artwork. Durable cantilevers provide for the right pressure every time. The Jumbo 160M Seal Press is lightweight but tough. The free-floating pl.
JUMBO 150, DRY MOUNTING & LAMINATING HEAT PRESS, & vintage tacking iron. Good working condition.